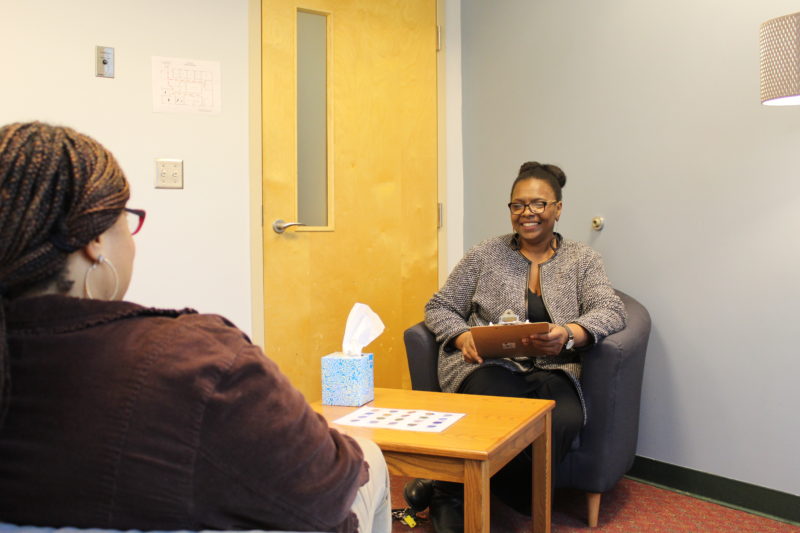 Our diverse team of therapists is trained and certified in an array of Evidence-Based Practices, and able to meet our participants at their school, home, or another place in their community where they feel safe. No previous experience with therapy is necessary, as our therapists and counseling interns work with individuals to help them understand the process and establish goals. We make a point of maintaining lower-than-average caseloads so that our therapists are able to provide consistent, high-quality care to every participant.
Our therapists can help with issues surrounding anxiety, trauma, self-confidence, depression, family conflict, parenting issues, domestic violence or substance abuse. Our staff are also available if you simply need someone safe to talk to. In addition to therapy, those enrolled in counseling are able to take advantage of our case management services, and our on-staff nurse practitioner is available for medication management.
Our Evidence-Based Practice certifications include Cognitive Behavioral Therapy (CBT+), Trauma-focused Cognitive Behavioral Therapy (TF-CBT), Solution-Focused Brief Therapy (SFBT), Alternatives for Families Cognitive Behavioral Therapy (AF-CBT), Dialectical Behavioral Therapy (DBT), Motivational Interviewing (MI) and Mastery of Anxiety & Panic for Adolescents (MAP-A), among others.
If you or a child in your care are in need of behavioral health counseling services, please download, complete, and submit our Counseling Intake Form and we will schedule you as soon as possible. and we will schedule you as soon as possible. If you would rather speak with someone directly, either for intake or any counseling-related information, please call our front desk at 206-329-2050, or our intake coordinator Beth Goodman at 206-454-3913.
If you are having a behavioral health emergency, please call 911 or the Crisis Clinic at 206-461-3222.
Individual & Family Therapy